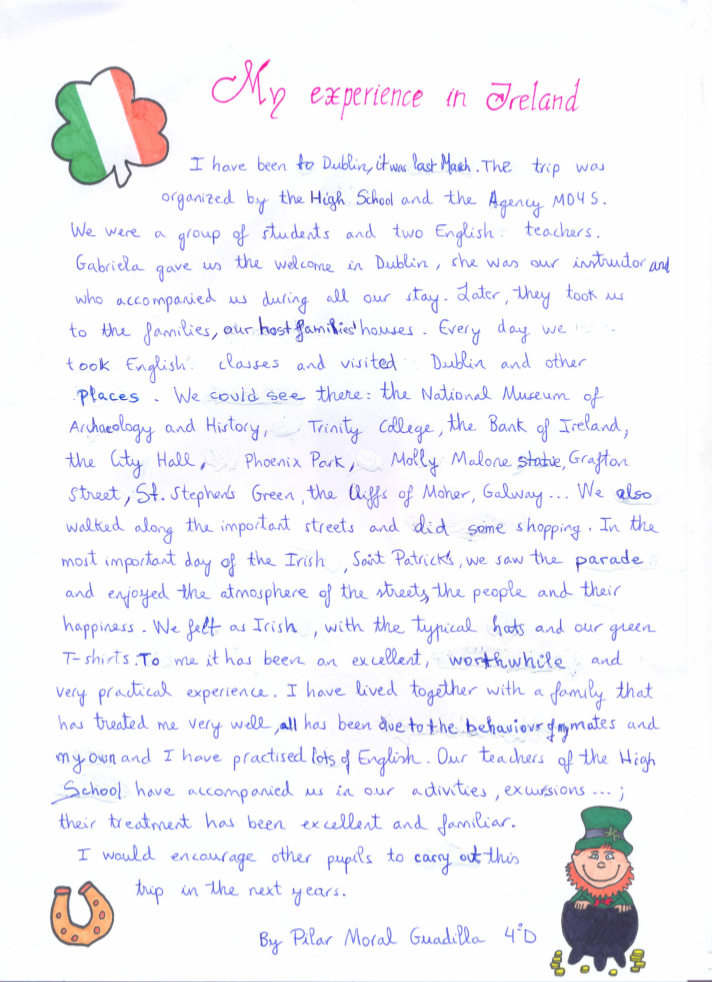 I have been to Dublin, it was last March. The trip was organized by the High school and the Agency MD4S. We were a group of students and two English teachers. Gabriela gave us the welcome in Dublin, she was our instructor and who accompanied us during all our stay. Later, they took us to the families, our host-families houses.

Every day we took English classes and visited Dublin and other places. We could see there: the National Museum of Archaeology and history, trinity college, the Bank of Ireland, the City Hall, Phoenix Park, Molly Malone statue, Grafton Street, St. Stephen's Green, the Cliffs of Moher, Galway...

We also walked along the important streets and did some shopping. In the most important day of the Irish St. Patrick's we saw the parade and enjoyed the atmosphere of the streets, the people and their happiness. We felt as Irish, with the typical hats and our green t-shirts. To me it has been an excellent, worthwhile and a very practical experience.

I have lived together with a family that has treated me very well, all has been due to the behaviour of my mates and my own and I have practised lots of English. Our teachers of the high school have accompanied us in our activities, excursions....; their treatment has been excellent and familiar. I would encourage other pupils to carry at this trip in the next years.